Storage Conveyors
Modern waste sorting plants tend to increasingly automate the process, in order to reduce production down time and labour costs.
Storage conveyors allow the storage of a certain amount of already selected material for a limited period of time, optimising the hourly production of the machines at the end of process (e.g. balers).
Storage conveyors, or silos, consist of slow conveyors, with steel containment walls, 2.0 to 2.5 meters in height, which receive material from sorting platforms or sensor based sorters; when full they empty their contents into baler feeding conveyor. They are belt conveyors for limited lengths, load and storage volumes, chain conveyors for more significant lengths, loads and volumes. They can be equipped on the discharge side with an automatic front door for higher volume capacity.
MAIN USE: temporary accumulation and storage of sorted material.
Features

---

---
Lengths up to 20 meters
Volumes of storage 30 to 90 cubic meters
Modular construction with welded metal sections
Lateral chains conform to DIN 8165 for chain belt conveyor
Oil resistant rubber belt for roller bed belt conveyor
Fully inspectable along entire length for easier maintenance
Technical Data

---

---
Storage Conveyors

1200

1400

1600

2000

2400

Width A [mm]

1200

1400

1600

2000

2400

Size B [mm] (without motor)

1480

1680

1880

2280

2680

Side height H [mm]

From 2000 mm to 2500 mm
Details
Roller bed belt conveyor, with automatic door
Automatic door detail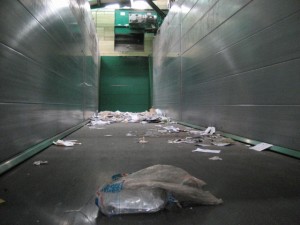 Storage chain conveyor discharge, without automatic door
[

back